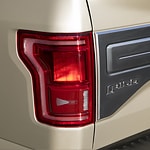 Ford's F-150 has long been a showstopper in the full-size pickup world. It consistently ranks among the best selling pickup trucks year after year. It also offers the most updated technology found in the pickup truck industry. Enjoy this new truck technology for yourself.
The new F-150 from Ford comes with a rear view camera that lets you back up safely. It activates whenever you put the truck into reverse. You can see what is behind you while you hold the gas pedal. As a new F-150 owner, you can also download the FordPass app. This app gives you access to remote features without having to walk to or actually get inside of the pickup. You can start it remotely right from your mobile app. You can also lock and unlock the doors.
The FordPass app also has a vehicle finder function. You can find your pickup whenever you lose it in the parking lot.