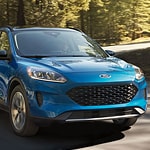 Driving will be a breeze if you have a Ford Escape. Active Park Assist 2.0 is one of the convenience features. It can help you find the right parking spot. Once it has found one, it can park for you. All you have to do is stop your car and put it in neutral. The Active Park Assist will take care of the braking, accelerating, shifting and steering.
The Ford Escape has a rotary gear shift dial. The size of this feature is one of the things that makes it convenient for you to use. It does not take up as much space as your traditional gear shift. There is more space for your cupholders.
If you have a hand full of groceries or belongings, then you can easily get your liftgate open. You need to have the key in your purse or pocket. Put your foot underneath the bumper, and it will open the liftgate.