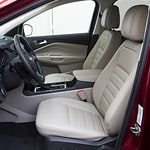 The spirit of adventure is alive and well among our Blake Utter Ford customers. Nothing compares to the feeling we get when we match a customer with a vehicle that helps their travel dreams come true. The Escape is a crossover SUV with amenities designed to take your getaway to the next level.
Whether you're exploring Denison or headed out for a weekend in the country, getting your gear on board can be a real challenge. Fortunately, the Escape features a Hands-Free Foot Activated Liftgate. Carry your key fob on your person, slide your foot under the tailgate, and the liftgate will open for you.
Sports equipment, musical instruments, and other fun hobby-related items can be a challenge to fit into your vehicle. Thanks to the Escape's 60-40 split-fold-down seating, there's room for all you want to bring on vacation. New adventures await in an Escape.